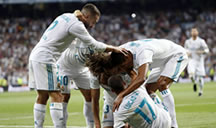 Numerous single and special bets are available for you for the UEFA Champions League. From the knockout stages onward, you'll also be able to place bets on the advancing teams of the fixtures. While you can quickly react to the dynamic odds in the live betting section, you can also place long term bets for the eventual winner of the Champions League.

Information for the 2019/2020 Champions League
The 32 best teams of the continent face off for Europe's football throne in the premier competition of the European club football. Following their final victory against Tottenham, ruling champions Liverpool lifted the trophy for the sixth time and became the third most successful team in the competition's history. The most successful Champions League club is Real Madrid with 13 titles - from which Los Blancos won three titles in a row!
Defending champions: Liverpool 2:0 Tottenham Hotspur

Record holding champions: Real Madrid (13), AC Milan (7), Liverpool (6), Bayern Munich/FC Barcelona (5)
24 of the 26 champions come from the 4 top leagues

Primera División (La Liga)

,

 

Premier League

,

 

Bundesliga

and

Serie A

Final: May 30, 2020, Atatürk Stadion, Istanbul
Tournament Mode

The 32 teams are drawn into 8 groups, in which they meet each other both home and away. The first two teams advance to the round of 16.
The round of 16 is already the knockout stage and away goals rule
VAR also plays a role from the round of 16
If a player gets his third yellow card, he will be suspended from the next game, after that, for every other yellow card, the player will have to face a new ban
After the quarter-finals, the yellow card records will be deleted and the previously received yellow cards won't count in the semis